Have you ever felt overwhelmed at the prospect of improving mental well-being in your workplace?

Given the complexity of mental health, it's hard to even know where to even start.

Questions such, what initiatives should I be running to how will I know what's having a positive impact and where do we need to focus our efforts have likely run true in the past; and are the questions we often hear.
After all, it's hard to create a well-being strategy if we don't first understand the needs of our employees. Of course, you can ask them questions or send out a survey; it can be a place to start but often the wrong questions are asked, and employees struggle to open up. A business may even be afraid to ask particular questions because they're treading in unfamiliar territory. Without real transparency, it's hard for you to build the right strategy; relay the right information to senior leadership or create positive change in your business.
The Everymind Score™ was designed to help solve these challenges by uncovering areas where your employees need support, whilst giving you a measure of collective well-being across your business.
If you're new to discovering us, you might be unsure of what the Everymind Score™ is and how it works. To help you understand, this is a rundown of what it entails and how it can help your businesses' well-being strategy.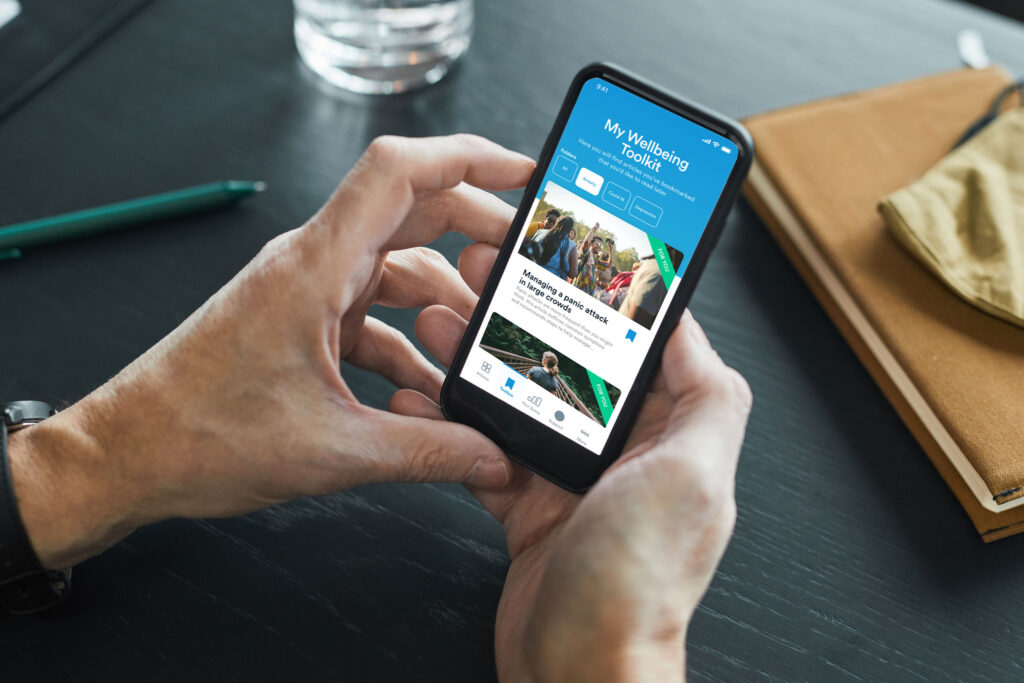 Why An Everymind Score™?
The Everymind Score™ is designed to help you identify areas of well-being improvement within your workplace.

As your employees sign up to the Everymind at Work app they'll be asked a series of questions that determine how they're feeling and where their well-being is currently at.
Each questionnaire is linked to the six key areas of mental well-being; scoring responses in relation to that specific area (we'll dive into these later).
This data is confidential; therefore it remains entirely anonymous.
Our questions are either clinically backed or have been created by Everymind at Work's Head of Psychology Lauren Callaghan; for example, our questionnaire on Anxiety & Worry acts as a screening tool for symptoms of anxiety (GAD7).
After your employees have completed the questions they're also able to see within the app what areas they're doing well in; along with areas where they may need more support.
From a business perspective, all of this feeds into your dashboard to show you the current situation company-wide. Updates will show in real-time so you can stay on the pulse of employee well-being which saves you the hassle of running continual surveys, which we know were built for a very different purpose and removes the need for back and forth meetings or consultations.
Above, is an example of what you'll see in your dashboard. You can filter switch between a six and 12-month view, allowing you to see a clear comparison across time. Where you see lower scores in the example above, you can understand where improvements can be made; for instance, General Well-being, Good Mental Health, and Resilience are scoring lower than Job Satisfaction and Workplace Well-being. Based on these insights, we will then send you relevant supporting content like the below to help you focus on these specific areas:
So Why Is This Useful To My Business?
The Everymind Score™ helps you learn about your employees and discover new ways of working together, for them and you. The tool is designed to help you create a well-being strategy that focuses on what your people need most. The spider chart represents a clear view of where well-being is at in your business, giving you a birds-eye view of what's happening. By knowing how your employees really feel, you reduce your time spent trying to figure this out (on top of any time invested on initiatives that aren't suitable). This is how the Everymind Score™ can completely change the way you approach mental well-being, helping you to:
Stay Focused
We know that making assumptions about how employees feel is the number one mistake you can make when creating a well-being strategy. Without understanding or getting to the root of any current issues, how can you "resolve" them? This is where the Everymind Score™ helps. Following your employees' questionnaire results, it provides real-time data and insights directly from your employees as they happen. This then creates a business-wide score based on the following topics:
Mood
Anxiety and Worry
Lifestyle
Self Belief
Connections
Work
These are the key areas of mental well-being that you need to consider. By having weighted scores for each area you can quickly start to understand where you need to focus as a business.
Building Understanding
There are several ways you can start to understand your employees better but how often do we get the time to do so?
The in-app questionnaires (and their anonymity) allows employers to understand the minds of their employees without being intrusive, invasive, or forcing employees to talk. This creates a safe space for your employees to open up which is key for improving mental well-being. Based on the answers provided we also deliver a customised well-being feed to each employee. If you're a growing business, it's likely the way your employees feel will be shifting frequently too. As roles change and processes or operations form its important to stay as close as possible to how they feel. By asking employees to regularly complete the questionnaires, you'll build a strong understanding of what's happening and where in that specific moment you need to focus.
Put simply, you discover where your attention needs to be for the benefit of employees and you, as well as strengthening the employer-employee relationship.
Give Everyone a Voice
When employees sign up to the app, they aren't bombarded with content based on what we think they'll need, the intuitive technology tailors content for them. The challenging task for many businesses is not understanding each employee requires different support, rather it's how to provide the right support. With the intuitive platform at your employees' fingertips, you're tailoring the output based on their requirements.
If, for example, your business is averaging a high anxiety score, the dashboard efficiently will provide you with insights to utilise at your disposal. Every aspect of the Everymind Score™ works to the benefit of your business, minus the manpower.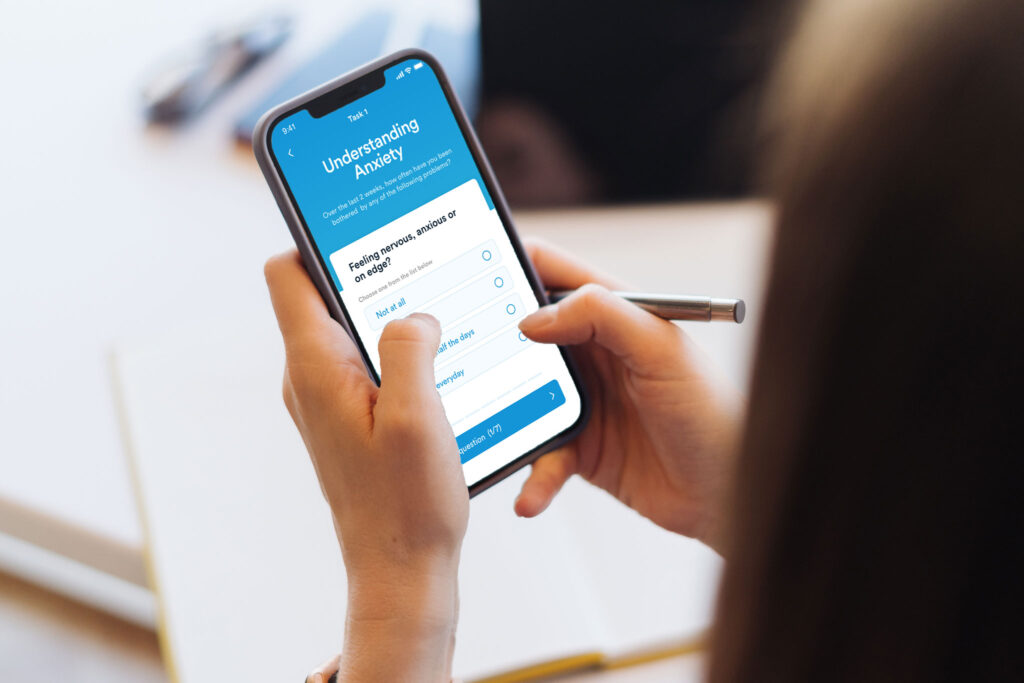 Tailored To You & Your People
On your dashboard, you'll find the collated data to show you how you can create a healthy strategy around the areas that require improvement. Not only does this make your strategy personalised for your business, but you're also tailoring the needs of individuals.
Remember that a one-size-fits-all approach to well-being is likely to fall at the first hurdle. We've seen it happen. This is why we give you and your employees the strategy, space and necessary tools to log, track and manage mental health to remove the guesswork and instead improve collective well-being.
Stay on Track
Whilst we continue to help you on your journey in well-being, we like to see results within your dashboard improving. However, mental health does fluctuate. The results you receive are continually monitored, and over time these can be compared to the past six months to one year within your business, and across our portfolio of clients.
Not only does this enable you to track the progress your business has made, but it also helps us work closer together in developing your well-being strategy further.
Data is Your Friend
Supporting your employees' well-being is important for your business; but, staying on the pulse of their well-being is difficult. Whether you're using a spreadsheet to track well-being or you're blasting the odd survey; these ad-hoc solutions can make it hard to get a complete picture of mental health and well-being in your business. Within our dashboard you can track Everymind at Work scores, just like the below:
We log and monitor both lowlights and highlights of your business, to not only show areas that are thriving, but areas that are struggling. We act as your partner for change; Everymind at Work aims to suggest and recommend evidence-based interventions that support your employees from all aspects concerning their mental well-being.
To achieve this, the questions we ask your employees are backed by clinical expertise to ensure suggestions have real-world application. Not only does this benefit your business it supports your employees, holistically. Questions we want to know include examples such as:
We understand the analysis of mental health is not linear. However, with the use of anonymity, real-time understanding, and a holistic approach, you're one step closer to better workplace mental health.
We hope this gives you a clear picture of the Everymind Score™ and its role in helping you improve mental well-being across your business. If you'd like to dive deeper, you can schedule a strategy call with us where we'll demonstrate exactly how to help you.