Menopause will impact around half of the UK population directly, and will indirectly impact almost all of us. With women over 50 being the fastest growing workforce demographic1, it is estimated that by 2022, 1 in 6 British workers will be women over 50. This means that most women will go through menopause at some stage in their working life.
Research shows that the majority of women are unwilling to discuss menopause-related health problems with their employer, or ask for the support or adjustments that they may need. Furthermore, 90% of women say that their workplace has no support available for employees going through menopause2.
Considering the vast number of employees menopause will impact, businesses are beginning to realise the importance of managing menopause correctly in the workplace.
For a summary of the statistics around menopause at work, download our poster 'Why Menopause Matters at Work: The Facts' here.
How does menopause affect women at work?
Menopause is a natural part of every woman's life, but it's not always an easy transition. Three-quarters of women experience symptoms, whilst 1 in 4 will experience severe debilitating symptoms3. Symptoms can vary in frequency and intensity and can be both physical and psychological.
A poster displaying the most commonly experienced symptoms can be found here.
Due to the lack of education surrounding menopause, many women find they are unprepared for menopause itself, let alone managing it in the workplace. The menopausal symptoms experienced can therefore significantly impact an individual's work life. A recent survey of menopausal women in work by Forth2 found that: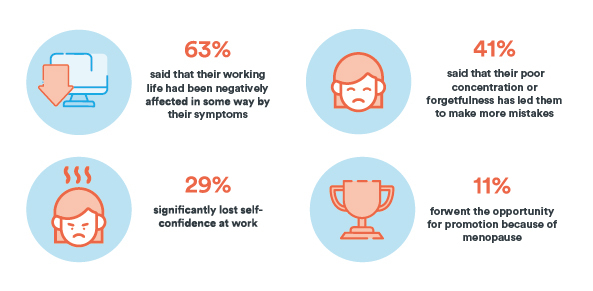 Further research has found that 1 in 5 menopausal women take time off to deal with their symptoms, whilst 1 in 50 are on long term sick leave3. Businesses that do not support their employees also find that they are more likely to lose valuable talent. Therefore, not only is the health and wellbeing of employees being impacted, but it can also cost the business in decreased performance/productivity and increased absence and turnover.
Lived experiences of menopause at work
We asked women who were, or had, experienced menopause how it affected them at work… here are some of their responses:
"The impact I felt on my work life was the lack of concentration and that the normal, simple tasks I wouldn't have thought twice about previously, I was having to concentrate on more to make sure I got them right. I suffered from anxiety which I'd never had before, it felt like an out of body experience.  I was fighting these feelings that I wasn't up to the job, second-guessing myself and wondering if I was going ever so slightly mad…oh and those hot flushes, perfectly described as power surges….head down so nobody comments how red your face is, a polite 'excuse me' to rush to the bathroom when you feel the heat travelling up your body, fan the underarms to disguise the sweaty blouse; the fear of being asked to take notes in an important meeting, wiping down those sweaty palms and fingers, trying desperately to hang onto the pen at the same time as trying to remember what the last person said" – Secretary
"The main menopause symptom that affects my work is brain fog/memory loss. I have to write everything down in case I forget, whereas before I would always be confident answering questions about things that had happened or were due to happen. This means I now feel I have to double-check everything as I have become less confident in my own abilities. The brain fog also means that I regularly forget people's names… which is very embarrassing when you have worked with them for years!" – Executive Assistant
"Being a teacher, the body aches and joint pain in my ankles had the biggest effect on my work as it made it hard for me to stand throughout the day. I also found the mood swings hard to manage as I would go from happy to angry in what felt like a matter of minutes. Standing in front of a room full of teenagers also made covering the hot flushes hard." – Teacher
"The menopause nearly killed me. I was driving at the time, about an hour away from home. The menopause had really interrupted my sleep. I fell asleep at the wheel and I knew it was only for a nano-second, but my head nodded and I thought for a second… this could kill me! It was so bad that I could only drive for a maximum of half an hour before I'd have to pull over and have what I call a power nap in a lay-by somewhere to regain a level of consciousness so that I could carry on and get to where I needed to be." – Educational Consultant
To read more personal stories and understand the full impact of menopause in the workplace and what employers/managers can do to support menopausal employees, download our Guide 'Managing Menopause at Work: A Guide for Line Managers and HR' here.
How to support menopause in the workplace
Menopause has a huge impact on all employees, whether it be directly and/or indirectly. To download all our resources on menopause and to understand how you can better support menopausal employees in the workplace, click here.