Body image always has been a pertinent part of modern culture. We're surrounded by what society likes to call 'perfect' in many ways; on the TV, on social media, in news and magazines and increasingly within our workplace. However, what we are faced with is unnatural and oftentimes unattainable. We are unique in our own ways and women's body positivity in the workplace should be celebrated no matter what career or professional path we decide to take.
Body positivity doesn't just happen or occur outside the workplace, it can be influenced at work too. The impact of body positivity in the workplace is far greater on a women's professional development and self esteem than we might have guessed.
What Impact Can Negative Body Image Have at Work?
Body image is not just our physical appearance. How we feel about our bodies is a clear indicator and insight into how we feel about our sense of self. Rather, the connection we have with our physical being is an emotional connection of our reflection.
If, for example those connotations are negative, this can prevent us from performing to the best of our ability and in particular, at work. By fixating on our physical appearance it may lead to low self-esteem and prevent us from engaging in social activities and applying to professional opportunities for career progression.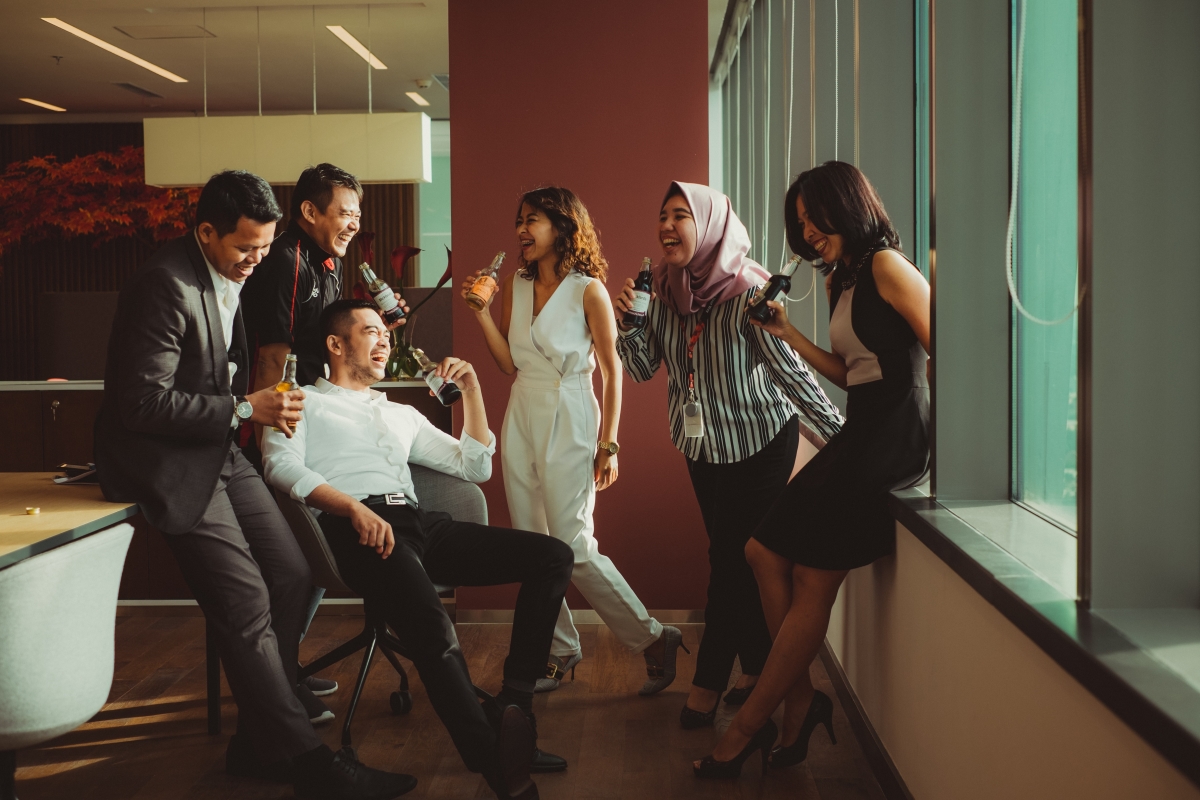 A study conducted by personal care brand Dove presents 4 in 10 girls prefer interacting with people online instead of in person. The brand also predicts that by 2050 low self-esteem could rob the nation of 14% of female managers in UK businesses, 21% of female MPs and 15% of British female athletes. Results like these show a scary connection between low self esteem and a risk of not achieving our full potential at work, due to warped yet 'normalised' perceptions in society.
Health concerns and physical illness linked to negative body image are often eating disorders, which include anorexia and bulimia. Workplace stress surrounding stigma and lack of support can exacerbate the problem more so, with some employees facing discrimination because of their eating disorders. 
The biggest factor lies in the lack of education and knowledge by senior management, who therefore do not actively do enough to support body positivity, in the workplace.
So What Can Be Done In The workplace?
Educate Management
Management should be given the relevant training to recognise and respond to eating disorders linked to body image. Training and education on wider issues covering mental health concerns that could be connected is vital in ensuring the individual has access to the right treatment to prevent future issues arising.
Integrate Positive Discussions
Hold active conversations that open up a safe environment for open dialogues surrounding body image and physical appearance to pivot learned societal behaviours into something that is unlearned and normal.
Open conversations can lead to positive re-engagement giving individuals who may have fixated on body image previously to now focus on career aspirations and opportunities.
Educate Employees
Educating employees ensures they too can detect a potential threat or issue within an employee and helps to de-stigmatise the issue, first hand. They can express their concerns for a colleague before comments or judgements are made, or before the situation worsens.
Manage Your Employee's Stress Levels
How do you monitor the stress of your employees? Working conditions should be considered as to how stressed employees may feel at work, as well as at home. Stress can lead to long term mental health issues and as such eating disorders, particularly if the woman lacks esteem and positivity surrounding her appearance at work. To help improve the well being of your employees and to find ways to manage their stress levels, you can read our article here.
Flexible Working and Support
Allow employees to be flexible with their start and finish times for health visits and to help support potential mental health issues that affect their working life. On-site support can be in the form of Mental Health First Aiders or Mental Health Champions available to employees who require extra support.
Communicate the support you have in place regularly. Honest and open environments often have higher levels of positivity surrounding workplace culture. This makes room for employees to feel comfortable in talking with people they can trust and rely on. Mental health issues, particularly those surrounding eating disorders and body image are hard to identify and may take time to understand and diagnose.
Promote Diversity
It's easy to get caught up in western beauty norms because it's something most of us have learned from a young age. Perhaps you could practise celebrating beauty from different corners of the world by promoting inclusivity in your workforce. Promote that those from different religious backgrounds and the way they dress is also normal and shouldn't be treated any other way.
What current dress code does your business have in place? Consider if this includes religious dress and the promotion of diversity in the workplace where each individual has the scope, space and accessibility to reach their full potential.
Everymind is on a mission to normalise the conversations regarding our mental health and well being at work. We're celebrating Women's Health Month and our tailored app is available to you and your business for needs like these. We're currently offering six months free, with no obligation to sign. Contact us for more information.