Your mental wellbeing partner, saving you time and money within your SME.
Looking to do more for your employees but struggling to know where to start as an SME? We're here to help.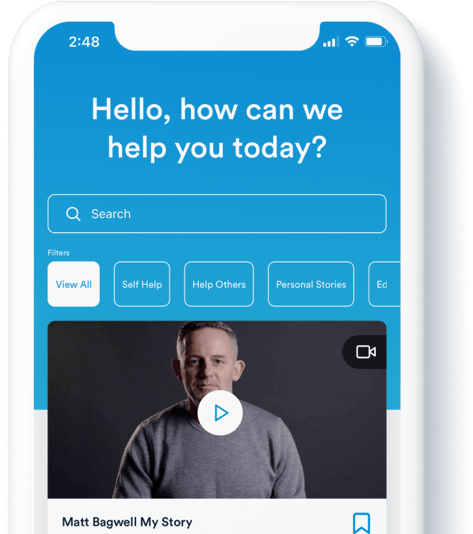 Your Very Own Wellbeing App
With similar solutions to ours not targeting SME's, they tend to only offer configuration for larger organistions.
We take a different approach, business with 5 or more employees? We'll set up our app customised to your business. Branded with your logo, we're here to offer your very own wellbeing app for your employees.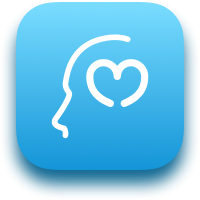 With us…
We set up our app branded for your business.

Without us…
Other services will provide an app or service branded to them simply because the set up time.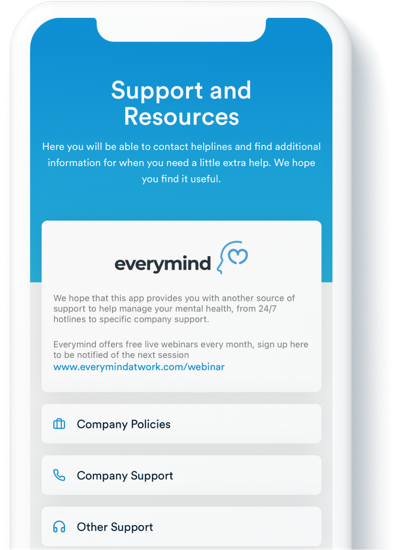 The fact this app allows my employees to eduate themselves around mental health, but also support them in times of need, that for me was why it was so powerful
Founding Director of Source
As we approach some form of 'new normal', I think it will become a key support tool as we go through another big period of change, and having access to Everymind and their analytics will help us adapt the support we give to our workforce.
We saw a higher engagement than normal and the data Everymind provide is a great way for us to track and monitor where our employees need extra support with their mental wellbeing.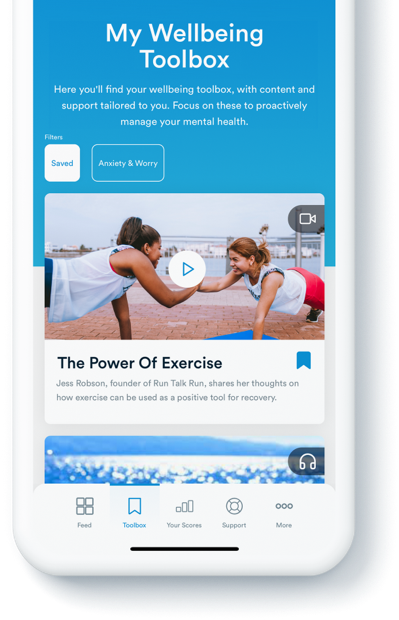 Tailored To Every Employee
As a small business it's hard to manage and offer a solution to every single employee.
Mental health is extremely individual and we all know a 'one size fits all' approach doesn't work. Instead, our technology means no experience is the same. Our content and support is tailored to every individual.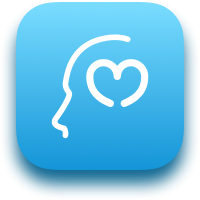 With us…
Our technology discovers more about each individual user and tailors the content and support to help them.

Without us…
You continue to invest in solutions that only serve a % of your employees due to the individual nature of wellbeing (e.g. mindfulness apps, a weekly Yoga session etc)
Where should you focus your attention if you don't know what your employees truly need help with?
We've spent the past few years creating a unique alogirthm called the 'Everymind Score', which highlights your overall wellbeing score as an organisation. With your employees using our app, you'll get access to your own branded dashboard where you can see anonymous analytics in real time highlighting the key areas for support.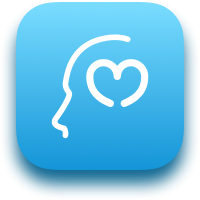 With us…
We combine various data points to show you, the HR professional where your employees need more support. This data will help you make the right decisions with your wellbeing strategy, to know that you're investing your time and money wisely.

Without us…
Without knowing what your employees truly need help with, it's hard to know where to invest your time and money. We all know an engagement survey doesn't always show the full picture as well…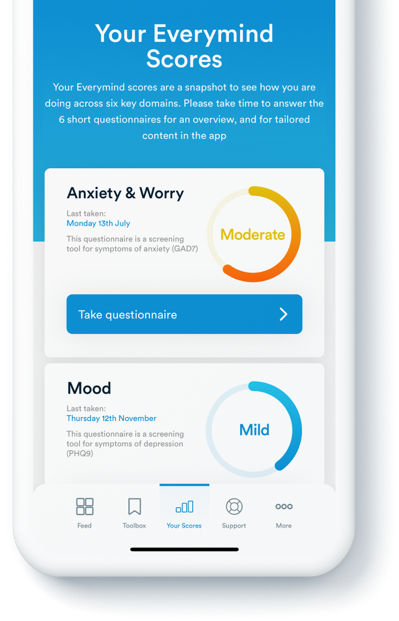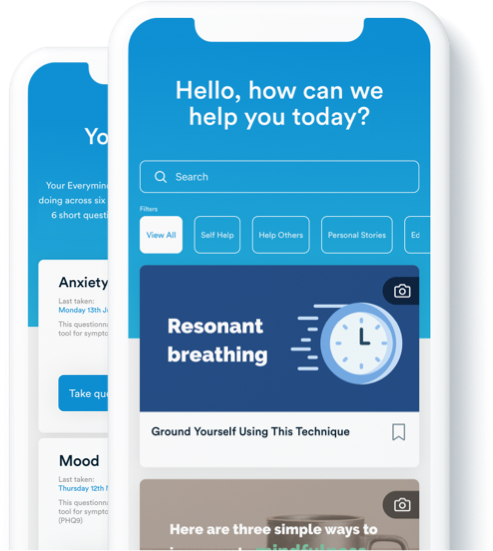 We can see you sweating already, excited about the prospect of us helping you transform your culture.
But know the time you'll have to spend onboarding thousands of employees. But no need to sweat, we've made it easy. From configuring our app to your business to getting your employees on to the platform, we've made it as simple as possible to save you time and headaches!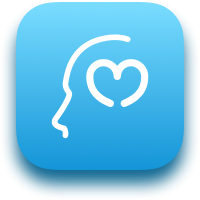 With us…
We do the work for you, setting up the app, sharing the onboarding instructions and making it as simple as 3 steps to get employees on to our platform. With our heavy focus on IT security and data protection, we're also ready for whatever your company throws at us!

Without us…
You'll implement another system that requires your time and ongoing involvement and potentially employees will find it to much work to sign up.